Assalamualikum and Hello.
So today, I want to share my 'short vacation' to 4 states and one country in a week for my semester break for this semester break. I hope you guys enjoy and may help you in planning the trip based on this entry whoever want to plan to go to Singapore which is USS (Universal Studio Singapore) and Malacca. I try my best to explain it more details.
My travel partner for this semester break is my cousin who just finished her study in India as a Doctor (wuuuu~~~). So we plan to travel to Singapore which is only focused on USS. USS is been my dream since I was 13 years old and everyone dreams too right? And Malacca, which is in Malaysia because she (my cousins) never been there and the last time I went Malacca when I was standard six which is a school trip, so I say ' yeah why not?' So the journey began.
Trip to Singapore.
So for the trip to USS we use a travel package by @pakejpelanconganmurah you guys can search it on instagram is under 'Bahtera Holidays'. It has 2 different types of package for Singapore which is for a day trip is only cost 'RM1++' but not include for USS, for USS only it cost 'RM 345' which is include the hotel and transportation. In my personal opinion is a reasonable price. To be honest, I am more preferring to plan my owns trip, but for USS I think is better you take by travel package because, of course I think this is quite cheaper than plan by your owns and the traffic in Singapore is so so jam. It is my first time saw even motorcycle also stuck in jam. I glad I pick under travel agent.
Day 1 (From KL – Johor)
We book flights which is my book 2 weeks earlier than our vacation day. From LCCT (KLIA 2- JB) by Airasia RM 37.00 per person (backpackers konon) which is okay. If you guys want to take by bus it cost RM 35.00 per person, but by flight is only 30 minutes which is more worth it.
My cousin's friend fetched us from Senai Airport and bring us late lunch at 'KacangPool' which is one of the famous food in Johor (they said). You guys can Google it, it's like a bread with 'kuah satay or kuah kacang' that mixed with chicken or beef based on your request. For me 'okay la' . The price is RM 16.00. It's look like this.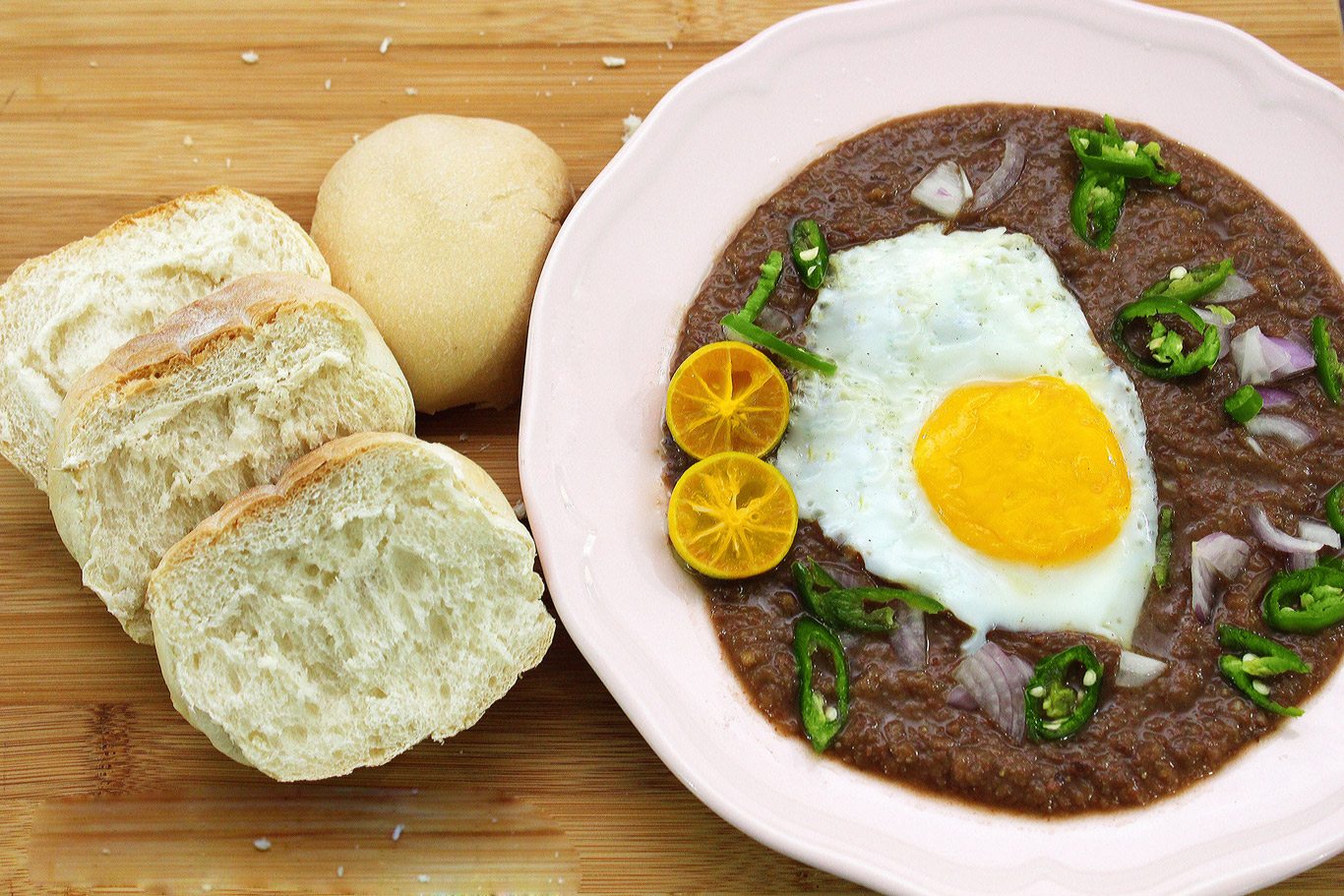 Picture credit to google
Then we reached our hotel which is 'Tropical Inn' in Johor Bharu under the travel package. The hotel was nice which is a 3 star hotel and free breakfast (I like). The view from the hotel also beautiful the location also in the middle of the city, whereas you guys can walk to go nearby shopping mall which is 'City Square' and others. The breakfast was good too. I do recommend. So we just chill waiting for tomorrow.
Day 2 (Singapore ,USS)
In the early of morning, which is 7.45 well early for me. We have to wait the bus in certain location they will inform you. We went to Singapore by bus that means we stayed at Johor lah. After settling all the customs. We reached at USS at 10.00 a.m. or 10.30 a.m. between this time. They give our time until 7.00 p.m. To gather back at certain places they will inform. Our happiness just began.
USS Checked
InsyAllah will go this place someday.
We went there during weekdays but still many people but for me okay lah because the waiting line for every game not that long. The longest is 30 minutes so for me okay, but my friend she also went here but during weekends, she has to wait almost 2 hours for one game. So I suggest you guys better plan in weekdays.
Revenge of Mummy, one of my fav game.
Far Far Away
4D Sherek
I only bring $50 Singapore dollar = RM150 to USS and I only used $20 dollar. So I suggest if you guys really focus to go to USS I think $50 Singapore dollar is enough. When we were there we don't feel hungry at all. LOL. Seronok main sangat lupa nak makan. We only buy churros ($ 4) and slash or I called it Slurpee ($5) haha that it's our lunch.
Churros. Picture credits to google because I was so starving forget to snap.
With my travel partner. Slash they called it but Slurpee for me.
For Muslims, you guys should bring your own sajadah for prayer which is you can make 'jamak' right?. Because in USS they did not provide any Surau so you guys should find a place to perform your solat. This is my first time perform my solat in public area that have certain (people looking at you when your solat) but not that public you guys should find a place that quite narrow and only a few people pass by. It was good experience for me and I am glad I have this experience the struggle where you really need to be extra careful with others especially when you in 'wuduk' in this crowded place. It is really priceless lah. First time kan, kasi chance.
Underwater show. You guys should see. The show will be in 12 p.m and 5 p.m
Get lost in crowded. Acah je ni
Hollywood Street

So yeah, I only buy a few of souvenirs due to limited time, because afraid missed the bus. So yeah we back to our hotel at 10.00 p.m. We book extra one night in this hotel which is RM99 (by booking.com) request to have same room. For me RM99 is quite okay, the room also quite big so it's comfortable but not include with breakfast. So sad. You guys can discover all USS attractions in one day, we manage it but sadly I don't have the opportunity to try the transformers ride. It was great experience you guys can visit their instagram for more details okay.
Day 3 (Johor – Malacca)
From our hotel we took taxi to Larkin Central to go our next destination which is Malacca. The taxi fare RM 13.00. From Johor we take public bus to Malacca and the ticket price is RM 2+.00. The journey takes about 1 or 2 hours.
We reach Malacca about 1.30 p.m but we stop at after Plaza Tol Ayer Keroh to pick our rental car. We rent a Kelisa – Manual car which is RM 90 for a day. It is very reasonable and the condition car was okay. It is one of UTEM staff hahah he is really nice . I called him Encik. Encik is quite surprise where did I get the number because I am not UTEM student so I got it from my friend, of a friend of a friend. LOL banyak kawan.
We started our destination from far which is Malacca Freeport. You can use google maps to reach your destination. We only window shopping, ta de duit nak beli so tengok je lah. InsyAllah dah kerja mana tahu kn. I really admire with the surau in Malacca Freeport. Lol pergi tengok surau. Entah apa-apa lah. We just take a snap then blah. If you guys really like shopping and have a lot of money this is your heaven on earth. All the branded items are in half price.
Melacca Freeport
Then we continue our journey to Coconut Milkshake in Pantai Kelebang which is famous in Malacca. I don't drink coconut but this is my first time to try coconut milkshake with ice cream on top, it's okay lah the taste. My cousin said it cheap only cost RM 2.50 so I called all the coconut milkshake lover try on this place. Google je.
Picture credits to my cousin

Then we went to Pantai Kelebang. Actually, based on my cousin plan , she said she wanted to take pictures at 'ala-ala desert' but it is quite far like 5KM walking. We were like nooo sebab kaki semalam sakit tak habis lagi and we are not kind of person 'nak gambar cantik perlu pergorbanan' so we just laugh and decide to go (check-in) our hotel. No ala-ala desert photo, is okay insyAllah Dubai nanti.
So we check into our hotel in the middle of Malacca which is Swiss Heritage Hotel in price RM 99 + RM 50 for a deposit. The location of this hotel really near to Jonker Walk by walking and the design of this hotel is so beautiful and so heritage. I like it. It also has a breakfast RM10 for 2 persons so why not right?. The breakfast also good. The room is small from our previous hotel so for me RM 99 is quite expensive lah jugak for the small room and the wiFi is also so slow during the day but in the night is okay. Overall, not that bad.
In Malacca, after Magrib prayer we decide to take Malacca cruise. It take 10 minutes walking (sakit jugak kaki sebab tak rehat kaki kn). The ticket it cost RM 22.00 (if have Siswa card) lol berguna jugak. The cruise takes about 10 minutes I guess, it was okay but quite boring too but you guys can enjoy the ride to see the beautiful and colourful lamp and a little bit of history of Malacca. They will play the voice tape so is okay la, educate jugak.
The view from the cruise
Then we went to find our late dinner. We only eat Kebab sambil berjalan went to Jonker Street. But sadly we reached the shop already close. LOL. Sedih kejap. But issokay.
Waiting for Kebab
Day 4 (Malacca – Negeri Sembilan)
The next day, we decided to tour around Malacca by bicycle. You guys can rent the bicycle if you guys stayed in this hotel. They provide the bicycles. It cost RM 10 for 12 hours so it's quite cheap right?. So we start with Stadhuys Museum. My favorite place to be honest, the museum is really good maybe I like history all those stuff and all those history really make me want to stay longer but we have to rush so for whoever like history and like museum , I totally recommend this place.The fee is RM 5.00
Random Flowers
That uncle laa ruin my picture.
Next to The Pirate Adventure. The ticket price is RM 22.00 for adult. It is like a bit like a ghost house all that I can say, to be honest I quite disappointed. For me the ticket price is so expensive with the experience in here, first you just only walk in the dark, well it has sound effect and decorations and it also has a few of people who will scream at you (entah apa-apa) and some short movie and that's it. Really hope they could make it more longer. It is not worth at all for my personal experience, but if you guys want to try is okay.
Me ft bicycle

Our last destination by cycling is to Jonker Street to find souvenirs. We still can rent the bicycle even we already check-out. The staff is really helpful and friendly. To be honest, we did not find many souvenirs I mean souvenirs that pretty for me but I only buy some.
Next, we went to the shore which is new famous attraction that you can see the view of Malacca city from 43th floor. The ticket price is RM 25.00 and you will get some postcards. During this day, it's not weekends so not many people come here, I am so happy so I can take a picture as many I can. The view was great but maybe during the night is merrier because you can see all those lamps more beautiful so I suggest maybe night will be more okay. We spend about 20 minutes, well is quite boring too because is doesn't have others attraction only the view itself. I suggest maybe they should add a hangout or chill port where people can lay on the soft cushion or small cute ice- cream stall so they can enjoy eating ice- cream with the Malacca city view. But The Shore is better than The Pirate Adventure. Seriously, I feel so disappointed.
That famous 'sangkar'

Next we hunt for our late lunch, at LOT 85 in Malacca, you guys can use technology the google this place and Waze to find the way. This place was suggested by some Malacca people. Is more to 'nasi campur' the price is a little bit pricey. But yes it is so delicious so I do recommend. You guys should try for all nasi campur lovers and not a big fan of hipsters' café like me. LOL.
Then we were heading to Negeri Sembilan to visit my cousin's friend. Not that much because we both are extremely tired. My cousin's friend treats late dinner at Nasi Arab Damsyik. I guess it's quite famous in Negori isn't? So yeah the next day I am going back home.
So yeah. That's my story hope you guys enjoy and might help you with information about this place/s. InsyAllah more to come. Happy traveling guys.
-THE END-